Since the early 2000s, Antique show-business has been a huge part of western television. Though it may be seen as a niche topic or genre, it surprisingly grew and expanded globally over the years. One of the shows that first had its foot forward onto other countries and regions is Pawn Stars, which was initially started by Richard Benjamin Harrison.
Pawn Stars is an award-winning reality TV show helmed by the father and son duo Rick and Richard Benjamin Harrison. The pawn show-business, for the most part, was helmed by the latter, well at least before his death.
TV personality Richard Benjamin Harrison, more popularly known as "The Old Man" or "The Appraiser," was born on March 4, 1941, in Virginia, USA. The Old Man is one of the most commercially known businessmen.
If you don't know or just can't seem to remember who he is, let's get to know him more:
Early Life
The Old Man's early life was like that of a typical American. Richard Benjamin Harrison spent most of his early years in his hometown, Danville, Virginia, before moving to North CA. There, he would spend his adolescence learning the ropes of life and facing poverty.
In light of this, to make extra bread, he would often find himself doing odd jobs. This includes schoolchildren service and chauffeuring at the very young age of 14. Oddly enough, contrary to their background, their family was of President Harrison's descent, according to Corey, his grandson.
Education
Contrary to his early life, The Old Man's education wasn't as well-documented. According to sources, Harrison transferred to Lexington High School after moving to North Carolina, eventually dropping out during his junior year. The reason why he discontinued his studies is still unknown, but, seemingly, it is due to poverty.
Military Life
Before turning into a prominent businessman, Harrison first offered his services to his country. But don't get things twisted. Harrison's choice of joining the military was not wholly discretionary. Around the latter part of the 1950s, Harrison committed vehicle theft and got arrested for it. This led to a trial where the judge had Harrison choose a life between bars or in the naval Boot Camp. Scared of prison, Harrison chose the latter.
After 20 years of service, Harrison attained the rank of petty officer first class. Subsequently, after his discharge from the Navy, he worked an office job for his wife.
Before Pawn Stars
Harrison's life and businesses weren't always beds of roses. After his discharge from the Navy in 1979, Harrison, now working for his wife's real estate agency, saw a market crash and increased interest rates. This caused their sales to plummet and, eventually, the collapse of their business two years after.
With 5000 USD left in their pocket, Harrison and his wife took another shot at life and moved to 'Sin City,' Las Vegas. This would mark the start of Harrison's legendary televised pawning business. He and his son opened Gold and Silver Coin Shop in Las Vegas Boulevard but would then move to a bigger shop five years later, eventually losing the lease shortly after.
After losing their lease, Harrison opened shop once again, now in the southern part of Vegas. Their place was strategically placed near the Las Vegas Strip. This is where his business would be 'boomin' and transform into the Pawn Shop that airs on History Channel.
The Old Man's Passion
'Has pawning and appraising always been his passion?'
To shortly answer you, yes and no.
Harrison's first love was automobiles. As seen on television, he is particularly keen whenever someone brings in a rare car or vehicle. So much as to steal one. Joking aside, his love for automobiles was so great to the extent where he convinced an owner of a 1966 Imperial Crown to sell it to him for 15 years. 15!
The owner of the said vehicle eventually gave in and sold it to him, making his efforts bear fruit. His passion for pawning just grew after getting into the business.
Pawn Stars Career
Back in 2009, Pawn Stars debuted on the History channel. Helmed by The Old Man and his son, Rick, along with his grandson Corey and his childhood friend, Chumlee, the show, in its first few weeks, propelled into success. Within the first ten weeks of airing, Pawn Stars topped Jersey Shore, which at that time was reigning the show rating leaderboard.
Harrison, on the show, was seen to be a cranky and grumpy old man. According to him, it was his role to do so. In line with his passion, The Old Man was on the ball and savvy whenever it comes to automobiles, vehicles, and the likes.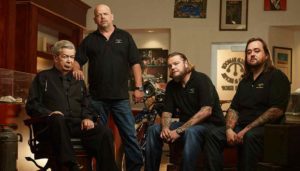 His Alias, 'The Old Man'
The origin of his famed alias was, to say the very least, nothing grand nor intriguing. He was referred to as 'The Old Man' just for the very reason that he is indeed an old man. Simple as that. In addition, he earned the foregoing nickname back when he was still of age 38.
Wife, Marriage, and Children
Back in 1960, Harrison, around age 18-19 at that time, tied the knot with his current wife, Joanne Rhue, a daughter of a county judge. After his criminal debacle and the start of his military life, Harrison got Joanne pregnant with their firstborn, Sherry. Sherry was unfortunately born with Down Syndrome. Just like others with the same illness or disease, Sherry died after six years.
After the death of Sherry, Joanne and Harrison had three more children: Joseph, Rick, and Chris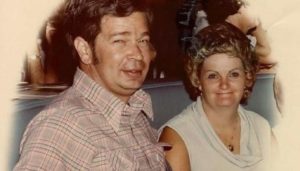 Net Worth 
Harrison, before his death, had nothing but success in his pawning career, along with this is money pouring in. The Old man has an estimated net worth of 8M USD as we speak. Moreover, besides his televised pawing show-business, a career in the military proved to make good bank as well.
Most Notable Episode
The Old Man's most notable episode in the show is, ironically enough, the one where he's not in it.
'A Treasure Remembered' is the 30th episode of the 15th season of Pawn Stars. During this episode, they paid tribute and bid their final goodbye to the beloved old man, enjoying Harrison's funniest and fiercest moments with the cast in the show. Truly tear-jerking for avid watchers and casuals alike.
Death and Cause of Death
After a long battle with Parkinson's disease, Harrison finally crossed the great divide on the 25th of June 2018 at the age of 77. The news of his death was made public via an Instagram post by his son Rick Harrison in to which he wrote,
Richard Benjamin 'The Old Man' Harrison passed away this morning surrounded by those he loved. He will be tremendously missed by our family, the team at Gold & Silver Pawn and his many fans the world over. There's a lot of memories here, and most of those memories are with my father.
Only a few people know about The Old Man's condition, so his sudden passing caused a lot of shock to the general public.
After Rick's revelation, Chumlee also went on to TMZ, sharing
We had kind of had been preparing for it for a while now, and I spent quite a bit of time at his house this past week just knowing that it could be coming soon and I wanted to make sure I had plenty of time and memories left with him while he was still here.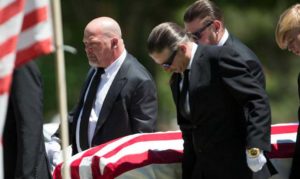 The Show after His Death
Even after his death, the show continued its course of success. Now done with their 17th season, the show, still helmed by Rick and co., is gearing up for another. However, we might not see Chumlee in the front following his arrest earlier in March this year.
The 18th installment of the show will feature big names like the WWE Hall of Famer Mick Foley, Dennis Quaid, and many more. According to Rick, this season should be exciting, if not more, than the past seasons amid the CoVid pandemic.
Notable Achievements and Awards
Their successful show-business garnered them various awards from different places. One of the most notable of which is the key to the city of Vegas granted to them by then-Mayor Oscar Goodman back in 2010.
To top things off, the pawnshop even has its own day. In 2012, the "Pawn Stars Pawn Day" got officially declared as a day of the show for the show every July 17. And if that wasn't enough, Rick and The Old Man had a feature in the Time 100 list of 2012.