Frank Fritz is the host of American Pickers, one of the most popular reality shows on the History Channel. He stars on the show together with his friend Mike Wolfe since it first aired in 2010. The two friends travel across America in search of rare and valuable antiques. The show is currently airing its 22nd season.
Career
Frank Fritz first worked as a fire inspector. He stayed on that career path for 25 years. While working as a fire inspector, he began collecting antiques related to firefighting and firehouses. He began selling his antique finds for a profit. Frank realized that he could make a living out of buying and selling antique items, so he quit his job as a fire inspector.
After leaving his day job, he opened the Frank Fritz Finds, his antique shop in Savanna, Illinois. Later on, he opened Antique Archeology with his longtime friend Mike Wolfe. Sometime later, television executives invited the two to host the upcoming show of the History Channel entitled American Pickers. The show debuted in 2010 and is one of the most-watched shows on the channel.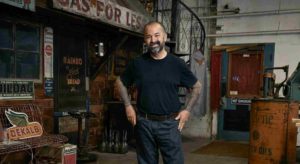 Frank Fritz Net Worth
The net worth of Frank Fritz is $6 million for the year 2021. His job as a reality show host is his primary source of income. The host earns a salary of $10,000 per episode. He also earns from his businesses, where he buys and sells valuable antiques. In addition, the TV host is also a writer with two published books under his name. His books are How To Pick Motorcycles and American Pickers Guide To Picking.
View this post on Instagram
Marriage
The television host has not entered into marriage at any point in his life. He also does not have kids. Several women have been rumored to be his girlfriend, but he has not confirmed any of it. There have also been speculations that he is gay because of his lack of a female partner. However, these rumors were never proven to be true.
Frank Fritz Illness
Frank Fritz suffers from a disease called Crohn's Disease, which causes the inflammation of the bowels. He has been suffering from the disease for more than 30 years. The traveling television host has had to make adjustments to his travels because of his illness. It is essential that he travels in an RV with a toilet.
In seasons 8 and 9 of American Pickers, fans noticed that the host has become slimmer. Frank revealed that his weight loss was the result of his Crohn's Disease. The television celebrity makes sure that he eats healthy and does some form of exercise to manage his illness.