Alex Webster is a well-known antique restorer, polisher, and cabinet maker born and bred in Colwyn Bay, Wales. Webster established The French Polishing Emporium, which focuses on antique restoration and traditional French polishing. Television shows including Salvage Hunter: The Restorers featured Webster, alongside his business, where he shares his knowledge and passion to the worldwide audience.
Alex Webster Restorer Wikipedia: Career
Webster was born to work as a restorer and polisher of antiques. His early life was exposed to restoration, French polishing works, and the likes. Webster's father had a French polishing business back when he was at a young age in their old town of Colwyn. Growing up in such an environment influenced Webster to pursue French polishing and antique restoration. Webster mentioned that his father taught him the trade of French polishing. To put things in context, Webster possesses all of the necessary qualifications to be a master restorer.
Hope you all enjoyed the #TheRestorers last night. Plenty more episodes to come and you can catch up on #Discovery+ anytime #Restoration #TheRestorers #series4 #newseries @SaxonDurrant pic.twitter.com/Iq8ULHQta3

— Alex Webster (@restoreralex) July 22, 2021
Before his career, Webster studied in Ysgol Eirias in Colwyn Bay. During school holidays, the 14-year-old Webster used to work for his father's business, in which he learned the craft of restoration. They've restored Chippendale chairs for aristocrats such as Lord Mclaren.
Twenty years ago, in 2001, Webster established his own restoration business in Colwyn Bay named The French Polishing Emporium. He works with different clients, such as antique dealers and interior designers, throughout the country. Besides, he also works with hotels, restaurants, historic houses, and the National Trust properties. In addition, the Household Institutional Furniture and Kitchen Cabinet Manufacturing Industry registered his company as part of it.
They also work for furniture restoration and reupholstery. One of the aspects of the job that Webster's enjoy is bringing back broken items and pieces to its former glory that looks like it has always been cared for. He mentioned that he works from all parts, ranging from straightforward repairs to 15th-century Chippendale—which pieces are worth more than 50,000 euros each—with no pressure at all. As of 2021, his company earns an annual amount of $53,829.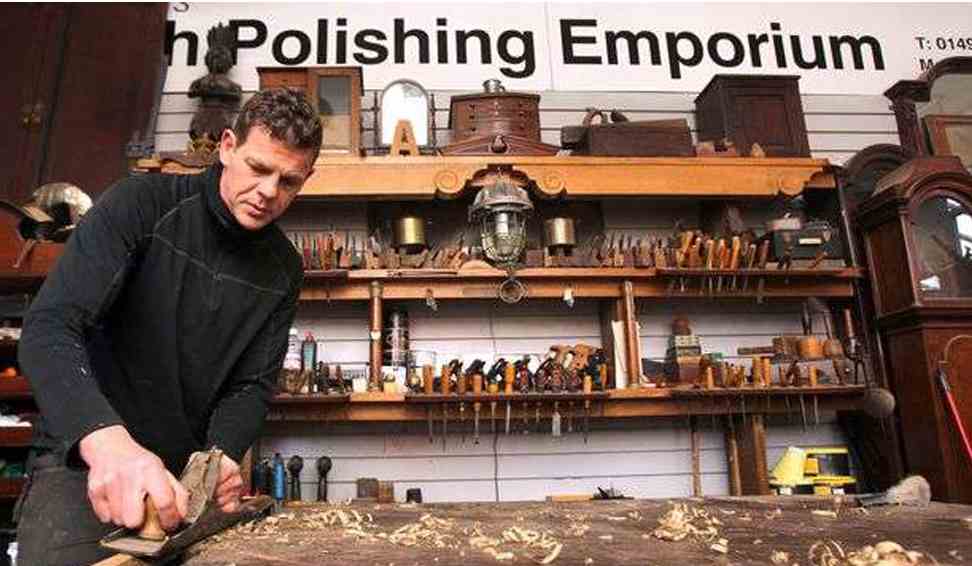 Who is Alex Webster's Wife and Kids?
Webster is known to be a married father of two, according to sources way back in 2018, though it was not detailed in public.
Webster is a very private person regarding his family, not revealing his wife and kid's name in the media. There is also little known about his parents, particularly his father, whom he idolized. Webster shared images of male kids speculated to be his children in his tweets on his Twitter account.
Age
Alex Webster first saw the light of day in 1975 on Colwyn Bay, Conwy, Wales. The renowned restorer was 45 in 2021, according to sources of The Emporium.