Charlie Ross was brought to this world by his parents in June 1950. A British expert on antique items, also known as a presenter most of the time during auctions.
Charlie Ross Net Worth.
He mostly appears on the BBC channel for several antique programs. Because of his choice in a profession as an auctioneer, his estimated net worth is one million US dollars.
Wife.
He married Sally in a place just outside Oxford, where they stayed and lived together. Charlie has two children after moving in with his wife. Though Charlie's marriage is not detailed in public, Charlie is said to have grandchildren. Previously, the Bargain Hunt star raved about how he has recently become a grandfather.
Currently, Charlie's age is 71 years old, and he recently celebrated his birthday last month. According to sources, he was born in Buckinghamshire, England. The public media doesn't know about his parents, as well as their occupation. But he still owned his auction house for over 25 years.
Charlie Ross as an Auctioneer
Ross began his profession in 1968, after graduating from high school, when he joined a local estate agency and began auctioning hens and turkeys. In light of this, he is now a  television antique expert who appears on BBC shows such as Bargain Hunt. Then he started conducting vintage vehicle auctions in California for many years. He also made numerous appearances in shows featuring classic cars. Soon after got the highest vehicle price ever at an auction in the United States. The vehicle is a 1957 Ferrari 250 Testa Rossa prototype that sold for more than 16 million dollars in 2011.
He currently works as an auctioneer at MacDougall's auction house. Afterward, he raised a significant sum of money through several charity auctions in the United Kingdom.
Consequently, he held the record for making the most money on a single item. He bought an elephant clock for £8 and sold it for £2,700. During that time he surpassed the record holder Anita Manning for her Buddha Statue.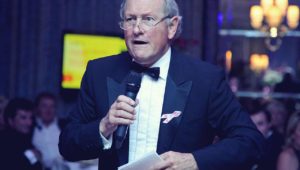 Music Career
Together with other antique experts, they produced a rock version of the song Sleigh Ride to aid BBC's foundation. Momentarily it reached the top one on the Amazon Rock Charts and made its debut digitally with the independent record label Saga Entertainment.
In recent years, he rejoined his comrades with some celebrities to record Rock with Rudolph. They planned to raise money in order to fulfill the needs of Great Ormond Street Hospital.
On November 30, 2018, independent record label Saga introduced Rock with Rudolph. Before the last song, the music video debuted alongside "The sun" on November 29, 2018. Soon after the song made its appearance in iTunes as the top two among the charts.