Many people are intrigued by antiques mainly because each piece has an interesting story and is also a great addition to any home. This is the reason why many viewers tune in to antique tv shows. There is a long list of antique shows to choose from, but it has been narrowed down to the top 10 shows to make it easier for antique enthusiasts to select.
Salvage Hunters (November 14, 2011 – Present)
Salvage Hunters is a 60-minute antique show that airs in the United Kingdom. Drew Pritchard, an antique dealer, hosts it. He roams around the country in search of fabulous antique finds. His antique hunts often take him to fairs, old mansions, and antique shops. Drew is often accompanied by his good friend John Tee, who drives the van they travel in.
He sells the antiques that he finds on his travels online or in his antique shop in Conwy. But before the items reach his shop, his team first examine, restore, and then photograph for documentation. Restoration experts, an electrician, photographer, French polisher, sales staff, and his ex-wife Rebecca comprise his team. Salvage Hunters debuted on television in November 2011 and is still on air up to this day. It has a total of 15 seasons aired as of 2021.
Antiques Roadshow (February 18, 1971 – Present)
Antiques Roadshow has been airing on British television since 1979. A BBC documentary that featured an auction house in London that toured the country to appraise antiques is the inspiration for the show. Bruce Parker was the first of the show in 1979. Other hosts have followed him through the years, such as Angela Rippon, Arthur Negus, Hugh Scully, and Michael Aspel. The show travels to different locations in the United Kingdom, and the locals come in to have their antiques appraised. Antiques Roadshow has produced several spin-offs in Canada and the United States. The show has aired a total of 43 seasons as of 2021. The current host is Fiona Bruce, who first joined the show in 2008.
Bargain Hunt (March 13, 2000 – Present)
One of the prominent antique tv shows is the Bargain Hunt, which is a reality game show that first aired on BBC. The show features two teams, the Red Team and the Blue Team. Two contestants accompanied by an antique expert comprise each team. The same amount of money is given to both teams, to purchase antiques from a shop or a trade fair. The purchased items are later sold at an auction. The team that earns the most considerable profits wins the game. The contestants will receive the profit from the sold items. However, there are many instances where the contestants are at a loss of profit.
David Dickinson was the first host of Bargain Hunt when it first aired in 2000. Tim Wonnacott replaced Dickinson, who hosted the show from 2003 to 2016. Tim resigned from the show in 2016, and Thomas Plant took over his post. A roster of antique experts, namely Christina Trevanion, Charlie Ross, Natasha Raskin, Anita Manning, and Eric Knowles, are the current hosts of the show. Bargain Hunt is now on its 59th season and has aired approximately 1,800 episodes as of the first quarter of 2021.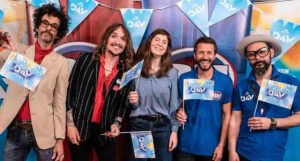 Antiques Road Trip (March 8, 2010 – Present)
Antiques Road Trip first aired on BBC two in 2010, but it later moved to BBC One in 2013. It has a game show format where two antiquity experts are competing against each other. They are given £200 each to purchase antique items that will be later sold at an auction. The profit after each sale will be awarded to them and used for the succeeding leg of the game. The winner will be the contestant with the most profit after five legs of the game. Each leg airs per episode and will run from Monday to Friday. The contestants will travel to different locations in a classic car. The profit earned by the winner will be donated to charity. The show also has a celebrity edition where a celebrity is paired with an expert. As of 2021, Antiques Road Trip has aired 31 seasons in total with more than 600 episodes. Tim Wonnacott hosts the show.
American Pickers (January 18, 2010 – Present)
American Pickers is one of the most looked after antique tv shows in the United States. It debuted on the History channel in 2010. The show follows the travels of Frank Fritz and Mike Wolfe as they travel all over America in search of antiques and collectible items. Daniel Colby provides the antique-hunting duo on where they should go or which items are a good buy. Mike Wolfe is the owner of Antique Archeology in Iowa and Tennessee, which also serve as the base for the show. On the other hand, Frank Fritz is the owner of Frank Fritz Finds, based in Illinois. Mike and Frank hunt for antiques in private estates, fairs, barns, and shops. As of 2021, American Pickers is now on its 22nd season, with over 300 episodes aired.
Barry'd Treasure (March 18 –May 6, 2014)
Barry'd Treasure is a reality TV series featuring Barry Weiss from the hit show Storage Wars. The show first aired in March 2014 on the A&E network. It was a spin-off of the hit show Storage Wars. Barry Weiss travels to different parts of the United States hunting for antiques and rare collectibles. Some of his former co-stars on Storage Wars appeared on the show. Barry'd Treasure went off the air after only one season with eight episodes.
Pawn Stars (July 19, 2009 –Present)
Pawn Stars is a reality show on American television, and one of the popular antique tv shows, that first aired on the History channel in July 2009. The show is filmed at the Gold & Silver Pawn Shop in Las Vegas. The stars of the show are Richard "Old Man" Harrison, Corey Harrison, Rick Harrison, and Austin Russell. Richard Harrison, whom they fondly refer to as "Old Man," owns the pawnshop. His sons Corey and Rick work for him together with their friend Austin Russell. The show revolves around the clients of the shop who come in with various items that they want to pawn. The stars of the show give their appraisal of the items. However, they bring in experts to provide a more accurate assessment. Another highlight of Pawn Stars is the argument that often erupts among its lead stars. Pawn Stars is now on its 17th season with approximately 600 episodes as of 2021.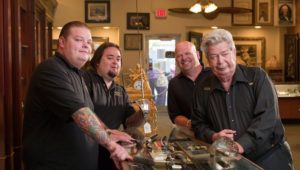 Auction Hunters (November 9, 2010 –May 9, 2015)
Auction Hunters first aired on American television in November 2010 on the Spike channel. The reality show stars Clinton Jones and Allen Haff, who travel all over Southern California in search of auctions for storage units. They bid on neglected storage units. After winning the auction, they rummage through the contents and pick out the valuable items. They sell the items to collectors and shops for a profit. Jones and Haff claim that they buy hundreds of storage units each year, but most of them make very little profit. They reveal that they only feature the most lucrative storage purchases on their show. Auction Hunters went off the air after five seasons with 107 episodes.
American Restoration (October 25, 2010 –April 1, 2016)
American Restoration, one of the other antique tv shows, is a reality show on American television that airs on the History channel. Rick Dale and his shop, Rick's Restorations, in Las Vegas is the center of the show. They restore antiquated items to their former glory. American Restoration is a spin-off of the hit series Pawn Stars, where Rick Dale made several appearances as a restoration expert. He has restored several antiques on Pawn Stars, such as motorcycles, jukeboxes, vending machines, and gas pumps. At American Restorations, customers come in to have their precious antiques restored. There are also times when Rick Dale goes out to search for items that he can work on. The show ended in 2016 after seven seasons, with 138 episodes in total.
Storage Wars (December 1, 2010 –Present)
Storage Wars is a hit reality show on American television that airs on A&E. Thom Beers is the show's host, which features professional storage unit buyers as they bid on neglected units. The buyers peek at the storage units from the open doorway before bidding begins. The winning bidder will sort through the storage contents and choose which items to sell. The presenters tally and present the items sold and their cost at the end of the show. This is to determine if the buyer gained a profit or is at a loss. Storage Wars initially went off the air in 2019 after 12 seasons. However, the network renewed its contract for a 13th season only in April 2021.