Mike Wolfe is the star of American Pickers, a reality show that airs on the History Channel. He stars alongside Frank Fritz. The duo tour the United States to hunt for antiques and collectibles. Afterward, they sell the items for a profit. Mike Wolfe has gained popularity through the years as his show earned a considerable fan base. However, he made it to the headlines in 2021 for a reason not connected to his hit show. Mike and his wife of nearly a decade declared that they have parted ways. Learn about Mike Wolfe divorce.
Who is Mike Wolfe's Former Wife Jodi Faeth?
Jodi Faeth has lived a very private life even if she is married to Mike Wolfe, a famous television celebrity. She has stayed out of the limelight while married to Mike and focused on raising their child. Jodi Faeth was born in 1972, which makes her age 49 years old this 2021. Mike and Jodi have been a couple since 1994. At that time, Mike was starting his career in buying and selling antiques. The couple has been sweethearts for 18 years before they moved on to become husband and wife on September 8, 2012. Their daughter Charlie was born on January 30, 2012, seven months before their wedding. The newlyweds spent their honeymoon in Hawaii.
In 2013, the idyllic life of Mike and Jodi was rocked by the threat of cancer. After a series of tests, doctors diagnosed that Jodi had Stage 2 Non-Hodgkin's Lymphoma. She underwent surgery and chemotherapy, which successfully eliminated cancer from her body. On May 29, 2014, Jodi was officially cancer-free.
Mike Wolfe Divorce
Mike and Jodi had just reached their 9th wedding anniversary when she filed for divorce in November 2020. Jodi filed the divorce documents at the Williamson County Chancery Court located in Franklin, Tennessee. According to the divorce documents, irreconcilable differences are the reason for the divorce. Additionally, the documents state that the couple has separated since June 2020. Jodi requested the equitable division of their conjugal properties and debts.
The custody of their daughter was not mentioned as part of the divorce proceedings. However, their daughter had already been living with Jodi ever since the couple separated in June 2020. Jodi also has a son of legal age from another relationship, who is also under her care. Later on, Mike and Jodi signed an agreement on family law participation in March 2021.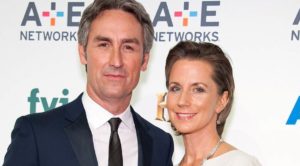 Is Mike Wolfe Dating Anyone Now?
After a long relationship with Jodi Faeth, Mike has suddenly found himself single and on the market once again. The 57-year-old Mike Wolfe is currently dating 42-year-old Leticia Cline. She is a model with previous stints on Playboy and Maxim magazine. Leticia was also part of the cast of Beauty and the Geek, a dating show on WB.
In addition, she is also a motorcycle racer who loves Harley-Davidsons. She is one feisty woman who has beat cervical cancer a few years ago. The couple first met one another in 2018. Nowadays, the couple is inseparable. Leticia travels around the United States with Mike as he shoots for his show American Pickers.