Izzie Balmer is a Derbyshire-based antiques appraiser and auctioneer, is a familiar face on BBC's Antiques Road Trip; and has previously been on Bargain Hunt.
Izzie works as a chief appraiser at the Wessex Auction rooms in Wiltshire, in addition to her TV job.
About Izzie Balmer
Constituting history, Balmer's career began after she graduated. Balmer told her stylist during one of his meetings that phrases:
No Job, No Money.
This was her main driving force to gain some job experience at a local sales management business.
In her profession, the host-slash-presenter has been, to say the least, very successful; opening up on the most costly thing she's ever sold:
An oil painting by George Turner, a Derbyshire painter. Normally, they sell for between £3,000 and £7,000, but this one went for £22,000,
said Balmer.
Despite the pros of the job, the cons eclipse the advantages. In continuation of the interview, Balmer told the stylist that older men would often think that she's clueless with such things. But, she occasionally reminds herself that it's all mind over matter.
Her Career in Antiques Road Trip
Before appearing on Antiques Road Trip, Balmer was a part of BBC's Street Auction, a similar show that auctions off unwanted items on the streets and outskirts of the United Kingdom.
In 2019, Izzie joined Charles Hanson, Philip Surrell, and James Braxton in its 9th season as part of the BBC. She also appeared on the celebrity edition of the show throughout the day.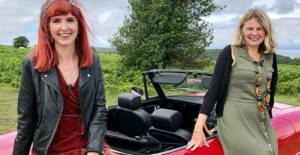 Is Izzie Balmer Related to Toyah Willcox?
Though there had been some news of them being related to each other, whether it is filial or like that of friends, there has been nothing to prove its veracity.  Seemingly, their similar facial features lit the rumors of their relationship.
Up to this day, their linkage remains a mystery.