Chumlee or Austin Lee Russell in real life was born on September 8, 1982. He is known for his part in Pawn Stars, a reality television show on History Channel. He is a childhood buddy of Corey Harrison, the son of Rick Harrison, the Gold & Silver Pawn Shop owner. Chumlee worked for the pawnshop for five years, even before it became a reality show on television. Pawn Stars showcases the day-to-day operations of the pawnshop, where clients come in with fascinating items to be appraised. Chumlee is considered an expert on video games, sneakers, and pinball machines. Get to know more about Chumlee and his wife.
Chumlee's Love Life with Olivia
Chumlee met Olivia Rademann in 2013 and became good friends. They only started dating in 2016. They started their romantic relationship at a time when Chumlee was going through a challenging period in his life. This was because the police apprehended him for the possession of drugs and firearms in March 2016. Chumlee had to go through a trial for illegal possession of the illegal items. Olivia helped him get through this rough patch in his life.
Corey considered Olivia as his anchor as he faced his challenges. In 2019, he finally proposed to Olivia. He knelt in front of her and asked her to be his wife with a 1.5-carat diamond ring worth around $40,000. The wedding took place in Hawaii in August 2019. Before their marriage, the couple hosted a pre-wedding celebration at the Detroit Room of the D Hotels. Chumlee and Olivia stayed in Hawaii after the wedding. They spent the time just enjoying the beach as husband and wife.
Who is Chumlee's Wife, Olivia?
Olivia Rademann is of mixed ethnicity, and it is assumed that she was born sometime in the 90s. As of 2021, she is still in her 20s. Olivia and her husband Chumlee have an age gap of approximately ten years. The wife of Chumlee is still a student at the University of Nevada.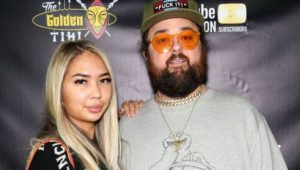 Is Chumlee Dating Now?
Chumlee is currently single after he and his wife Olivia separated. The couple went on their separate ways just one year after their union as husband and wife. There are no details about their separation. The only proof that he and Olivia have separated is the deleted photos on his social media accounts. Chumlee used to post lots of pictures of his wife, and now they are all gone.
Chumlee Wife Tanya Hyjazi
Tanya Hyjazi was the girlfriend of Chumlee when he was arrested for possession of drugs and firearms. They separated shortly after his arrest. Tanya is of Lebanese descent, which is the reason for her unique family name. She works as a chef at Stack Restaurant and Bar located inside the premises of a big casino in Las Vegas. Her cooking skills helped Chumlee in shedding more than 75 pounds in just one year. Tanya is a fan of tattoos and piercings. Chumlee showered her with expensive gifts during their relationship. One of the most costly gifts he gave her was breast implant surgery.