Christina Helen Johanne Trevanion, commonly known as Christina Trevanion, is an expert British auctioneer and television personality born in Shropshire, United Kingdom.
Before her career, Trevanion studied Fine Art Valuation at Southampton Solent University. She founded a firm with Aaron Dean, her previous co-worker at the Christie's auction house. Trevanion worked as a firm partner in the Trevanion & Dean auctioneers and valuers firm, located in Whitchurch, Shropshire. She then later took control of the firm in 2019.
View this post on Instagram
Besides her business, Trevanion had many appearances in BBC programs as an antiques expert and auctioneer. Bargain Hunt featured Trevanion, where she gained fame and shared her knowledge as an expert auctioneer.
Christina Trevanion Divorce Rumors
Trevanion is a very personal individual regarding her private life. The only information about her is that she's a married woman and a mother of two. On the 6th of December, 2020, the BBC presenter and expert auctioneer left her followers shocked as she tweeted about divorce on her social media account.
As a result, rumors began to spread about the actual marital status of the British expert auctioneer. Many of her followers were quick to respond to the controversial tweet in the comments section.
Despite this, her fans continuously supported her. Some fans even took the tweet as a joke and left positive comments on the post. As of today, Trevanion has not made an official statement about the divorce and her marital status.
Christina Trevanion is Not Separated from Her Husband
Trevanion tries to keep her personal life a secret, and there isn't much information about her current marital status. However, Trevanion recently gave her followers a glimpse into their family life when she jokingly tweeted about divorcing her husband.
Currently, Trevanion has kept her relationship away from the reach of the public and press. Hence, there is little to no information about the ongoing status of the expert auctioneer and her husband. We can only guess and hope that she enjoys herself in either case.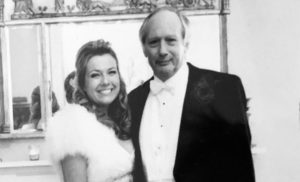 Kids
Though not detailed in public, it is known that Trevanion and her husband have a daughter of two together. The expert auctioneer was a very private person when it comes to her children; she has yet to reveal their names to the public and media. In addition, she hardly talks about her daughters in her shows.
Way back in 2016, in her talk with Antique Collecting magazine, she did give information about her daughters getting in the way with her antique collection. Moreover, Trevanion also discussed her favorite items, mainly composed of inherited and treasured saleroom purchases. She even jokingly stated that she would hide her 18th-century teapot collection at home until her little daughters come to the right age.